About the Secular Carmelites
Secular Discalced Carmelites are lay people who
Listen
like Elijah, to the still, small voice of God in the silence of their hearts.
Believe
like St John of the Cross that God seeks them even more than they seek Him.
Witness
like Elijah, to the presence of the Living God in every aspect of their daily lives.
Ponder
like Mary, on the Word of God, treasuring it in their hearts.
Pray
like St Teresa of Avila, with the conviction that we "have no need of wings to go in search of God but have only to find a place where we can be alone and look upon him present within"
Carmelite News Summer 2021
At last, we were able to meet in person at the end of June! Ten of us congregated at the church hall of Our Lady and St Thomas in Ilkeston by kind permission of Fr Andrew Hardy, for our usual monthly prayer and study day (throughout the pandemic we have been continuing our regular Saturday monthly meetings on Zoom).
We were delighted that Angela, one of our older members who has also been unwell and who has been unable to join us on Zoom, was able to come. We celebrated with her as she was at last able to make her final promises, which were received by Deacon James Hunter on behalf of the order.
This was also Teresa's last meeting as she entered Notting Hill Carmel on the feast of Our Lady of Mount Carmel, 16th July. Heather presented her with a small gift and the community arranged for a Mass to be celebrated for her intentions by Fr David Palmer. Many other prayers and Masses will be offered for her, and she will be sorely missed – although of course we will keep in touch. She has been a member for very many years and a great source of inspiration and support.
We now hope and pray that we will be able to return to "normal" with regular monthly meetings, but instead of returning to St Francis Church in Long Eaton we will be meeting at St John's Church in Stapleford - again by kind permission of Fr Andrew Hardy.
Meeting for Morning Prayer on Zoom has been very helpful to the group as a way of keeping in touch and supporting each other. But now we have decided to meet monthly instead of every week, on the 4th Friday of the month at 10.15am for those that can make it.
The Community Retreat (31st July-1st August) – was originally planned to be held at Buckden Towers in Cambridgeshire but they are not planning to reopen this year. Heather was fortunately able to book us into the Hayes Christian Conference Centre in Swanwick (see photo above) and 11 members are planning to attend.
Carmelite News Autumn 2020: Carmel and Covid!
Despite the many difficulties and hardships of this year because of the pandemic, the Secular Carmelite group in Nottingham has continued to grow and indeed, through God's grace and care, to thrive. Although we are saddened to be unable to meet physically as we usually do at St Frances's Church in Long Eaton, we have been able to continue our regular Saturday monthly meetings of prayer and study on Zoom (whilst remaining in touch by phone and letter with the one member sadly unable to attend).
In July, our annual weekend retreat which had been planned to take place at Buckden Towers in Cambridgeshire had to be cancelled, but we were able to successfully transfer the retreat online.
We have also introduced the new idea of meeting weekly on Zoom for Morning Prayer and to support each other on a Friday, for those that can make it. And we have been delighted to welcome new members and enquirers… more below. If you are interested in finding out more, we would be really pleased to hear from you.
On Saturday 14th November 2020 Karen Jones from Lincoln, Michael Green from Bourne and Dana Rinaldi from Nottingham were formally welcomed and received into formation by the St Elizabeth of the Trinity Community of Secular Carmelites. Their petitions were received by Deacon James Hunter from Lincoln, a member of the group, on behalf of the Superior of the Carmelite Order during a moving Liturgy of the Word celebrated on Zoom at our regular monthly meeting.
From the ritual booklet
Deacon -The Lord has called you to live an evangelical life in the world as brothers and sisters. He brings us together today to receive those who have expressed their desire to begin formation in the Secular Order of Discalced Carmelites. This stage of formation, with God's help, will lead to an evangelical commitment. Let us ask the Lord always to give them the grace of the Holy Spirit so that they may persevere in their purpose. May he also enable us to support them along the way…

Candidates -Trusting in the mercy of God and in the fraternal help of all of you, we ask to be admitted to the period of formation in the Community of the Secular Order of Discalced Carmelites. We wish to live our baptismal consecration according to the ideal of life of the Teresian Carmel, and to collaborate in fulfilling the mission of Camel in the Church.
The readings chosen were from the Mass for the Presentation of Mary in the Temple:
Zechariah 2; 10-13. Sing and rejoice, O daughter of Zion!
Psalm - Magnificat. The Almighty works marvels for me. Holy is his name!
Matthew 12: 46-50. For whoever does the will of my Father in heaven is my brother sister and mother.
The homily was given by Deacon James asking How do we do the will of my Father? which, by kind permission, you can read here
Michael introduces himself here.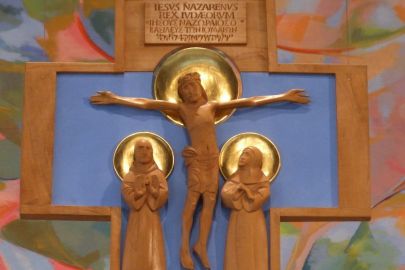 Carmelite News Spring 2020
On Saturday 14th March 2020 2 members of the St Elizabeth of the Trinity Community of Secular Carmelites made their simple promises which last for for 3 years and became members of the worldwide Carmelite Order. They seek to live out their baptism as Secular Carmelites by striving for evangelical perfection in the spirit of the evangelical counsels of chastity, poverty and obedience and through the beatitudes according to their state in life. Hilary Wilkinson and Sheila Leafe's promises were received by Deacon Chris Stevens of St Francis parish, Long Eaton on behalf of the Superior of the Order during a Liturgy of the Word celebrated at St Francis Church (by kind permission of the parish priest, Fr Christopher Thomas). Karen Ziglam was also formally welcomed and accepted into formation.
The readings chosen by the candidates were:
1 Kings 19; 9-12 Elijah Meets God at Horeb
Psalm 139 O Lord, thou hast searched me and known me!
1 Corinthians 13 The Gift of Love
John 15; 1-17 Jesus the True Vine
The attached homily was given by Deacon Chris encouraging all members to live out their promises for the glory of God and the good of the Church - very much a call to arms! https://nottinghamcarmelites.uk/uploads/file/homily-by-rev-chris-stevens.pdf
Concluding Hymn: Lady of the Mystic Mountain (Mount Carmel)
Lady of the Mystic Mountain, where the Lord has set his throne.
Up its steep ways of the Spirit none can walk save love alone.
Grant us grace to climb Mount Carmel and to learn that love is loss.
Guide us till our ways outdistance all earth's treasures save the cross...
We were very pleased to welcome Sheila's husband Alan and some members of her family to the service and afterwards to a shared lunch in the church hall. A beautiful day!
Main Photo Crucifix over the alter at St Francis' Church with St Francis and St Clare (David Aldred).
Our Promises
We are called to commit ourselves to this way of life:
by taking promises to live in the spirit of the counsels of poverty, chastity and obedience and of the Beatitudes
by forming small communities which meet monthly for prayer, formation and mutual support
by sharing in the ministry of the Discalced Carmelite Order through our own contemplative prayer and through helping to lead others towards such prayer
Prayer is no more than frequent, friendly conversation with One whom we know loves us.
St Teresa of Avila
In the measure you desire him, you will find Him.
St Teresa of Avila
From the Constitutions of the Secular Order of the Teresian Carmel - Preface

All are called to share, in charity, the holiness which belongs to God alone: "You must therefore be perfect, just as your heavenly Father is perfect" (Mt 5:48).

Following Christ is the way to attain perfection, open to all by baptism. Through Baptism, we take part in the triple mission of Jesus: kingly, priestly and prophetic. The first is a commitment to transforming the world according to God's design. By the priestly mission, the baptized person offers self and the whole of creation to the Father with Christ, guided by the Holy Spirit. And as prophet, the baptized person announces God's plan for human kind and denounces all that is contrary to it (Lumen Gentium 31-35).

The great Teresian Carmelite family is present in the world in many forms. The nucleus of this family is the Order of Discalced Carmelites: the friars, the enclosed nuns, the seculars. It is the one Order with the same charism. The Order is nourished by the long tradition of Carmel, expressed in the Rule of Saint Albert and the doctrine of the Carmelite Doctors of the Church and the Order's other saints.
Our Communities
In the Nottingham Diocese there are three closely linked but autonomous communities:
The St Edith Stein Community, meeting in Derby on the first Saturday of the month, drawing members from Derbyshire, Burton-upon-Trent & Leicestershire
The St Elizabeth of the Trinity Community, meeting in Nottingham on the second Saturday of the month. This draws in members from Nottinghamshire, Leicestershire.
The St John of the Cross Community meeting in Lincoln drawing members from Linconshire.
Our meetings include recitation of Morning or Evening Prayer, half an hour of silent prayer, study of Carmelite texts and Scripture and time for socialising and suppot.
Our Nottingham community also leads 3 Reading Groups to help people deepen their spiritual life by exploring the Carmelite Saints and their writings; meeting monthly, two in the day-time and one in the evening.
We also lead courses on prayer, days of prayer & reflection and an annual retreat that offers opportunity for individual guidance.
Show all articles